From club jersey to team shirt - everything in your design
The iNOW graphics team does not use standard designs. They develop custom designs custom designs are developed and implemented according to your wishes.
1. tell us your wishes and ideas with the help of sketches, photos, style guide or other information.
Our graphics team will create the first design proposals on a top of your choice based on your specifications and send them to you.

3. you decide which variant you like best and tell us your change requests.

4. you have 2 rounds of changes in which we finalise your design.

When the design is complete, we will apply it to all other items and send you all the designs.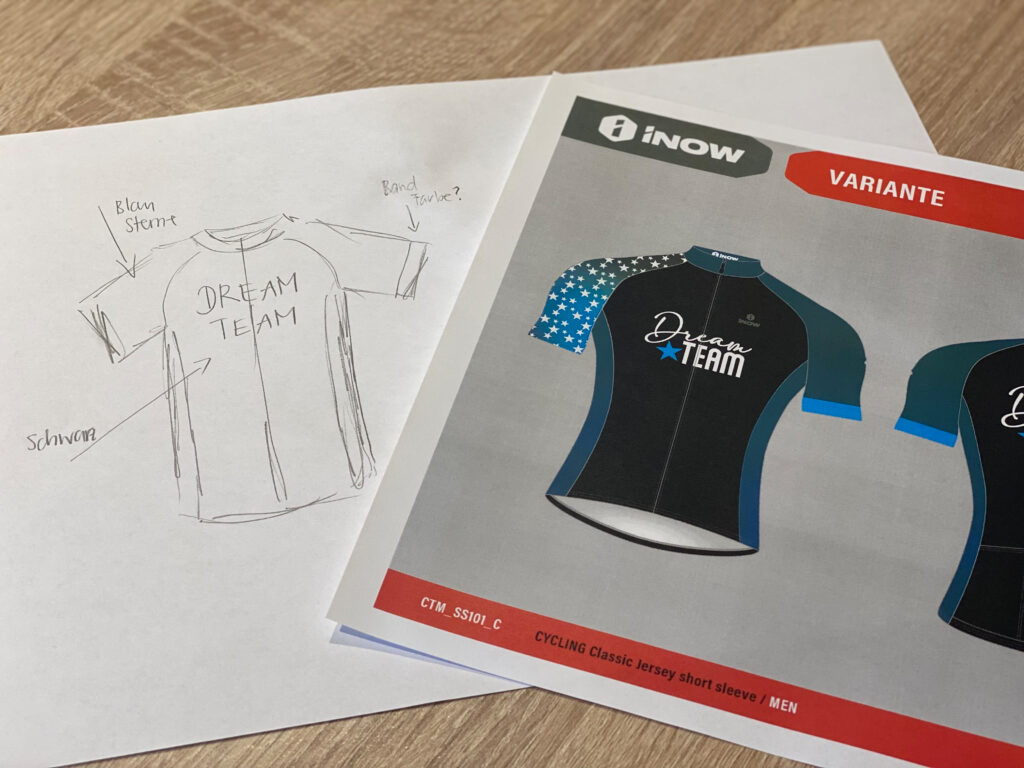 The flat-rate graphic costs include several initial proposals. Then 2 rounds of changes, as well as the complete implementation on all other products.
Tops: CHF 160.-
Trousers: CHF 60.-
Accessories: CHF 25.-
Colour change: CHF 50.-
Please note that the graphic costs will still be charged if the order is cancelled.
In order for us to create your design and make your outfit look perfect, we need the correct file types for delivered logos.
Below you will find the specifications so that your project can be created without any problems:
1. please supply logos in vectors.

2 All rights of the data supplied by you belong to you.
Vectors are data converted into curves and paths.
There is no loss of quality when enlarged and the colours can be easily adjusted. If lettering (car, board) has been produced, the responsible advertising technician or graphic designer could supply these file formats.
Vector data often end with the following abbreviations: .ai / .eps / .svg / .pdf
Pixel-based are, for example, photos. When enlarged
the individual pixels appear.
For logos, the quality is not optimal, likewise
a white background in many cases. Please always use logos in vectors, not
Deliver pixel-based.
Pixel data often end with the following abbreviations: .tiff / .jpg / .png
The path to perfect design
Get inspired by existing designs, collect what you like and we will advise and help you to get to your dream design.
Contact iNow and we will be happy to advise you.